29th September 2002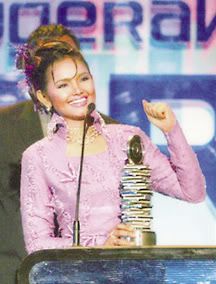 GENTING HIGHLANDS: Local songbird Siti Nurhaliza emerged the biggest winner at Anugerah ERA 2002 at the Arena of Stars here last night, taking home three awards.
She won the Best Choice Female Vocalist, Best Choice Ethnic Song with the song Nirmala and Best Choice Music Video (Nirmala).
Winners of the other seven categories were Zamani for Best Choice Male Vocalist, Sheila on 7 (Best Choice Vocal Duo or Group), Spider (Best Choice Rock Song – Aladdin), Eva & Izad (Best Choice Pop Song – Dua Insan), UNIC (Best Choice Nasyid Song – Hanya Tuhan Yang Tahu), Too Phat (Best Choice Local English Artiste) and Sarimah (Best Choice Hopeful Artiste).
The winners at Anugerah ERA was decided by votes cast by the public via Internet, SMS and post or fax.
Three special awards were given out to Datuk Rahim Razali (Anugerah Panggung ERA) for his contribution to the arts and film, Exist (Anugerah Carta ERA) for its song Jesnita which stayed at the top of the charts for 13 weeks and local diva Sharifah Aini (Anugerah Emas Era) for her 35 years in the music industry.
source *http://thestar.com.my/